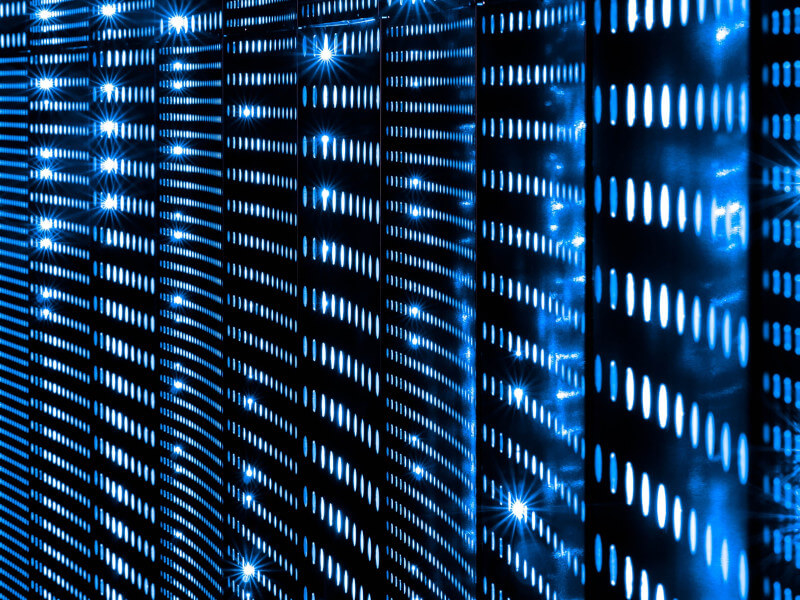 Why Should I Use VPS Hosting?
As your website's needs and traffic levels grow, you'll want to move from shared hosting to a plan that offers more resources and features. You may even be looking for a plan that provides greater control over the hosting environment. In this scenario, VPS – (Virtual Private Server) hosting is likely your best bet. In a nutshell, VPS hosting is a type of plan that gives you your own private (virtual) server. This means you don't share resources with other users. It's also highly scalable, since you can change your resource allocation at any time. VPS hosting works much like having your own dedicated server, but it requires less technical expertise and is significantly cheaper.
An excellent choice for web developers, webmasters, resellers, and for those who run resource-intensive websites. VPS Hosting operates and performs just like an independent physical machine would. Except it's partitioned into multiple "virtual" servers, offering security and flexibility for your websites, independence from your neighbors, and full control over your hosting environment.
How does VPS hosting work?
VPS hosting works through "virtualization technology". Simply put, virtualization technology is what enables the division of one server into multiple individual private servers.
Each VPS is like an independent private room within a massive house. Each room is capable of being used independently by individual users/websites, without the need to share any "rooms".
What this means is that each website will have access to it's own RAM, storage, bandwidth, etc., without being affected by what happens to the other "rooms" or VPS's.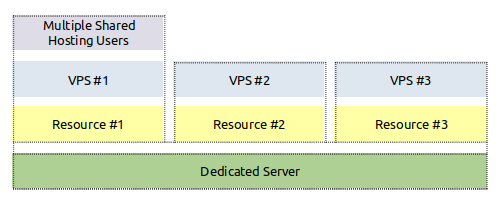 Dedicated Server – VPS – Shared Hosting.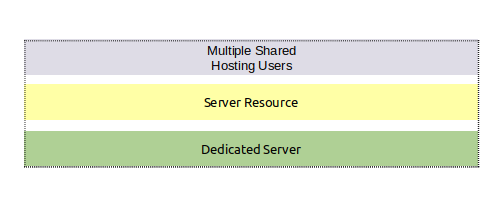 Dedicated Server – Shared Hosting.
A server is a computer on which your web host stores the files and databases needed for your website. Whenever an online visitor wants to access your website, their browser sends a request to your server and it transfers the necessary files through the internet.
Using virtualization technology, your hosting provider installs a virtual layer on top of the operating system (OS) of the server. This layer divides the server into partitions and allows each user to install their own OS and software.
Therefore, a virtual private server (VPS) is both virtual and private because you have complete control. It is separated from other server users on the OS level. In fact, VPS technology is similar to creating partitions on your own computer when you want to run more than one OS (e.g. Windows and Linux) without a reboot.
Running a VPS lets you set up your website within a secure container with guaranteed resources (memory, disk space, CPU cores, etc.) you don't have to share with other users. With VPS hosting, you have the same root-level access as if you had a dedicated server, but at a much lower cost.
Comparing VPS to other web hosting types
Different types of web hosting allow you to perform different levels of customization on your server. They vary in pricing, performance (e.g. page load time), and the availability of the service (e.g. uptime) as well. Below, you can read about how VPS hosting compares to other hosting solutions.
– Shared Web Hosting vs Cloud Hosting – Which Is Best?
– Shared Web Hosting vs Virtual Private Server – Which Hosting Plan is For You?
– VPS Hosting – Frequently Asked Questions
The Pros and Cons of VPS Hosting
If you're thinking about upgrading to VPS hosting, it helps to fully understand its advantages and disadvantages. While we've hinted at a few of these already, let's spell them out clearly.
Pros
– It's faster and more reliable than a shared web hosting server.
– As server resources such as memory or processing power are guaranteed, there's zero to minimal fluctuation in available resources.
– Issues and traffic surges of other server users don't affect your site.
– You get superuser (root) access to your server.
– You have better privacy, as your files and databases are locked from other server users.
– It's an easy-to-scale service. As your website grows, you can easily upgrade your server resources (RAM, CPU, disk space, bandwidth, etc.).
Cons
– It's more expensive than shared web hosting.
– It requires more technical knowledge to manage your server.
– Improperly configured servers may lead to security vulnerabilities.
When & Why Should You Choose VPS Hosting?
VPS hosting is usually seen as the next step after your website grows out of the resource limits of shared web hosting. If the most advanced shared web hosting plan is not enough anymore to run your website smoothly, it's worth upgrading to a VPS plan.
However, there are other use cases when it can be a good idea to start with a VPS plan right from the beginning. For example, eCommerce websites where you need to ensure secure payments with a fast and stable environment can benefit a lot from a VPS. In fact, if you store any kind of sensitive data or have to process online payments, VPS can help you reduce the risk of security breaches and identity theft.
If you expect traffic spikes at certain times on your site, in case of an event planning or e-commerce web site on sale days, a VPS hosting plan can be a godsend as well. Game servers and other resource-heavy sites also run with much better performance on a virtual private server.
The Main Advantages of VPS Hosting
For many people, the number one advantage of a VPS is that it offers a lot of the functionality of a dedicated server at a fraction of the cost. It also offers more stability than a shared server since you don't have to share resources with other companies who are hosted on the same server.
But it also gives you more flexibility because you can customize them much more. With a shared server, the websites are managed by the web hosting company and you have input but not a lot of actual hands-on control. With a VPS, you can have as little or as much control as you need.
The biggest deciding factors: root access requirements, pricing, and bandwidth availability. If you need root privileges and dedicated bandwidth at a low price, you need a VPS or cloud Hosting.
Wrapping it up
It's always best to know what VPS is, and how it works so you know what to choose. Evaluate your unique needs, your website requirements and your budget to find a provider that's perfect for you.
If most of your business is conducted online and your traffic is growing, a VPS could be the perfect solution. PD Hosting VPS come with Solid State Hard Drives* for storage which delivers (SSD VPS) a tremendous performance boost in read/write speed.
At PD Hosting, there's no waiting around for your new VPS to be deployed. Instead of hours, it only takes minutes. We understand the value of your time, so we make sure that your VPS server is ready for use within minutes. With our unique instant provisioning platform your VPS server will be up and about within a matter of minutes. We use Openstack on all of our VPS Hosting Plans for automated and easy provisioning of servers. However depending on the provisioning queue the setup can take up to 30 minutes.
So, if your online business is experiencing both highs and lows, and you need the option to respond quickly while adding power to match the demand, a VPS is the perfect choice for you.
We hope this article helped you understand what VPS hosting is and how it works. In case you have any additional questions, feel free to contact us.