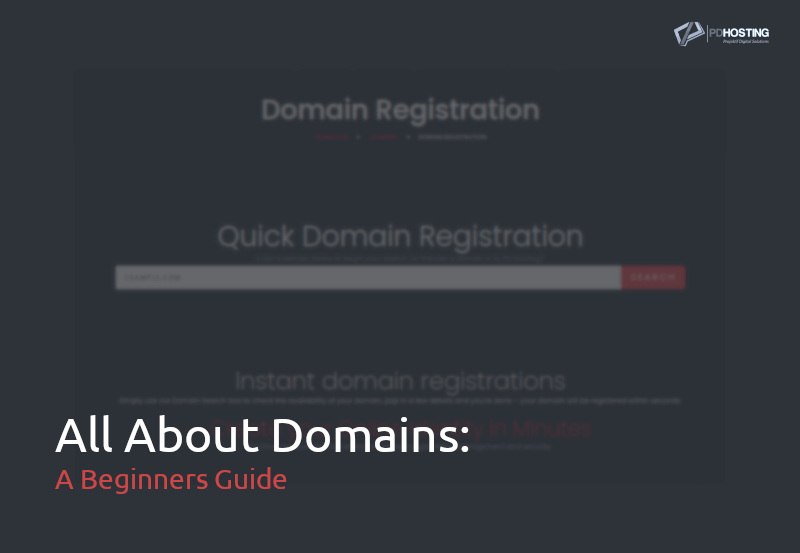 Beginner's Guide: All About Domains
If you are new to web hosting and want to create a website, there are many things you need to have in place before your website goes live. One of the essentials for creating a new website is a domain name.
We are often asked by beginners: what is a domain name and how do domains work? If you are a beginner, then you may have heard that you need a domain to make a website.
In this beginner's guide, we will answer what is a domain name and how domains work. The goal is to help you understand and choose the right domain name for your website.
What is a domain name though?
What Is a Domain Name?
Think of domain names as a way to simplify navigating around the internet. While computers read and interpret IP addresses (a unique string of numbers e.g. 127.0.0.2), people are not as good at remembering a string of numbers. Domain names were invented to solve this problem. Each domain name is associated with an IP address which is how people find your website on the internet. In essence, a domain name is the address of your website that people type in the browser URL bar to visit your website.
Now if you want to visit a website, then you don't need to enter a long string of numbers. Instead, you can visit it by typing an easy to remember domain name in your browser's address bar. For example, pdhosting.co.uk.
A More Detailed Explanation: About The Domain Name
The Internet is a giant network of computers connected to each other through a global network of cables. Each computer on this network can communicate with other computers.
A domain name is essentially your website's equivalent of a physical address. In the same way that a GPS needs a street address or a postcode to provide directions, a web browser needs a domain name to direct you to a website.
So, a domain name takes the form of two main elements. As an example, this website's domain name is Pdhosting.co.uk consists of the website's name (Pdhosting) and the domain name extension (.co.uk). When a company (or a person) purchases a domain name, they're able to specify which server the domain name points to.
How Domain Names Actually Work In The Background?
To understand how domain names actually work, we will take a look at what happens when you enter it in your browser.
There is a global network of servers called the Domain Name System (DNS). This network works like a giant telephone directory for all domain names and IP addresses on the internet. When you search for a specific website (domain name), your browser pings the DNS and queries where to find the requested IP address. The DNS returns a result to your browser and you're directed, within milliseconds, to the website you're looking for.
For example, if your website is hosted on PD Hosting, then its name server information will be like this:
– ns1.projektif.com
– ns2.projektif.com
So the name servers are computers managed by your hosting company. Your hosting company will forward your request to the computer where your website is stored.
The computer is called a web server. It has special software installed (Apache, Nginx are two popular web server software). The web server now fetches the web page and pieces of information associated with it.
Finally, it then sends this data back to the browser.
What Is The Difference Between Domain Name And URL?
The domain name is like your website's address and it's what leads people to your site, whereas the universal resource locator, or URL, includes more specific information like the location of documents or pages on your website.
What Is The Difference Between Domain Name And Web Hosting?
Web hosting is the rented space on a server, allocated to your website, where all your website files are stored. Your domain name is the address that points to your website so your visitors can find you.
You need both a Domain and Web Hosting if you are planning on building a website.
However, it's important to remember that they are two separate services, and you can buy them from the domain hosting providers.
Now you may be wondering, how would it work if you bought them from two separate companies?
You just need to edit your domain name settings and enter the Name Server information provided by your hosting company. Name Server information defines where to send user requests for your domain name.
We recommend getting both your domain name and hosting from the same company. This allows you to easily manage them under the same account.
Different Types of Domains
Domain names are available in many different extensions. The most popular domain extension is .com. There are many other options like .net, .org, .news, .london, .host, .ltd, and more.
Let's take a more detailed look at different types of domain names available.
gTLD (Generic Top-Level Domains)
A top level domain is exactly what it sounds like: a type of domain name which is at the top level of the internet's domain name system.
The Top-level Domain or TLD is the term used to describe the suffix at the end of a domain name. Some examples of top-level domains are:
– .com,
– .net,
– .org.
– .edu
A list of all valid top-level domains is maintained by the IANA and is updated from time to time.
While these are just a few examples, at the time of writing this article there are 1,500 possible TLDs according to ICANN.
Anyone can register these TLDs.
sTLD (Sponsored Top-Level Domains)
A sponsored TLD is a specialized top-level domain that has a sponsor representing a specific community served by the domain.
Many sTLDs are intended for a specific use-case, such as "gov" used by the US government and "edu" used for post-secondary institutions in the US. There are only 14 sTLDs available.
ICANN only applied the term sponsored TLD to TLDs in the first two rounds of new gTLDs. It did not use the distinction between sponsored and unsponsored for new gTLDs in the 2012 round.
ccTLD (Country Code Top-Level Domains)
Country Code Top-Level Domains are TLDs that represent countries and territories around the world. These include TLDs like .ie for Ireland, .uk for the United Kingdom, and .us for the United States.
They're often used by companies that are building dedicated sites for specific regions and can be a good way of signaling to users that they've arrived at the right place.
Who owns a domain name?
A domain name can be legally owned or held by any person, entity or organization, also known as domain registrant.
Domain name is legally owned by a domain registrant. Whenever someone registers a domain name, the registrar will gather the registrant's personal information and submit it to the WHOIS directory.
With that in mind, if you register a domain name, you automatically become the registrant and will continue being so as long as you renew the fees.
You can check any domain registration data with PD Hosting's Domain Whois Lookup tool.
There are several types of contacts on a domain name. Typically, for a regular domain, all the contacts will be the same person. The types of contacts that are on domains are:
– Registrant, or owner contact
– Administrative Contact
– Billing Contact
– Technical Contact
The legal owner of the domain is the Registrant. The legal owner is not the administrative, billing, or technical contact. The registrant is also not the person on file with your domain registrar. It is important to have the correct person listed as the Registrant or contact owner. If you have an employee who registered your domain name, and they were gone tomorrow out of the blue, there would be no proof that your organization has any legal right to that domain name.
Another example is if you had your web developer register your domain name for you. If you did, and they were to suddenly disappear tomorrow, how would you receive your renewal notifications or prove that you are the rightful owner of your domain name? Having the correct email on file is essential to retaining ownership of your domain.
Want To Know Who's Listed As The Registrant Contact On Your Domain?
Follow these easy steps;
1- Login to the PD Hosting client area at https://my.pdhosting.co.uk
2- Click on "Domains"
3- Click the wrench icon next to your domain
4- Click on "Contact Information" in the left side menu
Here, you'll be able to see the Owner Contact, Admin Contact, Billing Contact, and Technical Contact. Also you can change the contact details.
If your domain is not registered with PD Hosting, you can check your domain contact information in the ICANN WHOIS Database.
Parts Of A Domain Name
Domains are made up of three parts. The subdomain, domain name, and top-level domain (also known as the TLD or extension). The combination of the domain name and the TLD (top-level domain) is known as the root domain.
Example:
[https]://[www].[pdhosting].[co.uk]
– https: Protocol
– www: Subdomain
– pdhosting: Domain Name
– co.uk: Top-level Domain
Let's take a closer look at these parts:
Protocol
The protocol is part of the URL, but not part of the domain name itself. The protocol serves the purpose of telling the browser what kind of information is being transmitted.
There are several different types of transfer protocols. Some common examples include:
– File Transfer Protocol (FTP)
– Hypertext Transfer Protocol (HTTP)
– Hypertext Transfer Protocol Secure (HTTPS)
– Simple Mail Transfer Protocol (SMTP)
Subdomain
Subdomains are the third level in the hierarchy of a URL. The subdomain is not a part of the root domain and is added after the fact via DNS. For example, "store.yourdomain.com", "forum.yourdomain.com" or "blog.yourdomain.com" would both be subdomains of yourdomain.com.
Domain Name
The domain name is the second level in the hierarchy of a URL. Domain Names are unique and are purchased from a registrar such as PD Hosting.
Some examples of domain names are as follows:
– www.example.com
– www.pdhosting.co.uk
– https://www.jsonparsereditoronline.com
Top-level Domain
The Top-level Domain or TLD is the term used to describe the suffix at the end of a domain name.
How Do I Know If A Domain Is Available?
PD Hosting offers a free to use domain name search tool directly on our website. Simply enter a domain name of your choice in the search box and press Enter.
If your preferred domain name is already registered, then choose another extension or try coming up with different variations using your brand name. Once you find your unique domain name, you can claim it by proceeding with domain registration.
How to Register a Domain Name?
Different name providers utilize different systems and so while this answer covers what the process typically looks like, it may differ slightly depending on the provider.
Once you've decided on a domain name, you'll need to determine if it's available to register. Registering a domain name is easy with PD Hosting's domain search tool. Simply type in the domain name and press "search". If the domain name is available, you can register your domain name through us. Just click to register and pop in a few details and you're done – your domain will be registered within seconds.
How Much Does a Domain Name Cost?
The cost of a domain varies based on each different extension or TLD (top-level-domain). Also the domain prices depend on the providers. See the competitive domain prices at PD Hosting.
Hidden Costs of a Domain Name
Aside from the domain registration cost, there are few hidden domain costs and upsells that you should be aware of, so you can make the most educated decision.
You're just starting with your online business and have found your perfect domain name for only £0.99/year. Let's be realistic; that sounds too good to be true!
Sometimes you might not be getting as good a deal as you think when registering your domain name. Below you'll learn about some hidden charges you'll want to watch out for:
It's not a secret that almost every company will try to upsell something to you. That means that they will try to offer and charge you for additional services right before you purchase your domain, like the number of parked domains, number of email accounts, DNS management, web hosting, or premium support. There's no such thing as premium support for a domain name, so don't fall for it.
Hidden fees – A lot of times what might seem like a good deal upfront won't actually be a good deal. Sometimes fees will be buried within the terms of service. Look out for things like transfer fees, increased renewal fees, long-term domain contracts and more.
Short-term discounts – Some domain registrars will offer seemingly good discounts, but this discount will only apply if you register for a long-term contract, or pay for multiple years up front. Short-term discounts can help you get a cheap domain up front, but make sure the costs won't increase drastically after the first year.
How Can I Get a Free Domain Name?
PD Hosting offers a free domain name for users with the hosting plans. Users can get .com, .net, .org, and other unique TLDs free of charge for the first year. See the domain and hosting deals to find your hosting package with free domain.
Can I Transfer A Domain To PD Hosting?
You can transfer your domain to PD Hosting in 3 easy steps:
1. Remove Your Domain/Registrar Lock And Get An Authorization Code
Most registrars will implement a domain lock on your domain to provide additional security for your domain. Disabling a domain lock with your current registrar should be easy.
– Log into your account.
– Under the Domains menu, click My Domains.
– Click on the link for the domain name you wish to modify.
– Click General Settings or click General Settings from the Manage Domain drop-down list.
– Set Registrar-Lock to either Enabled or Disabled.
– and Click Save.
2. Begin The Transfer Process With PDHosting
To begin the process of transferring your domain name to PD Hosting, click to Transfer your domain to us. Enter your domain name and EPP Code and hit Add to Cart. Domain Transfers vary in cost by your TLD. In addition to transferring your domain, your domain registration will also be extended by one year.
3. Verify Your Transfer
After initiating the transfer of your domain from PD Hosting, you will receive an email confirming that you wish to transfer your domain to us. A confirmation link will be included in the email and you will need to verify your transfer request. Simply click on the link and agree to the terms and conditions. Furthermore, once you have verified the transfer, we will transfer the domain automatically and take care of the heavy lifting. A domain transfer can take up to seven days depending on your current registrar.
Final Word
In this tutorial, we've learned all there is to know about domain names and how they work. We have also covered the basics of domain transfer and the domain registration process.