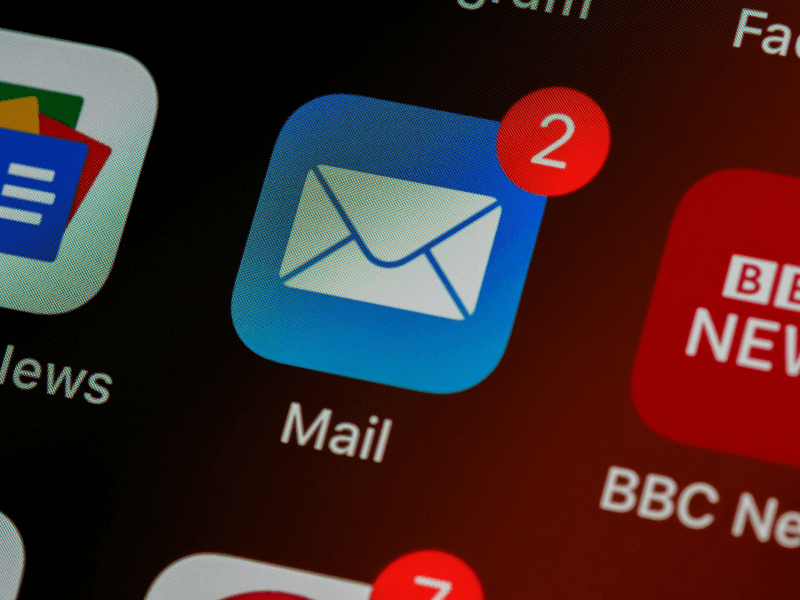 Why Should You Keep Email & Web Hosting Separate?
There are many important decisions to make when taking your business online – choosing a domain, web and email hosting provider is one of them.
In many cases, when you purchase a web hosting, your hosting provider may also offer you email boxes as part of your package.
However, it's not the best idea to have your email hosted by your website host. Below we'll explore why it's a good idea to keep your email separate from your web hosting, the best options for email, and details on how to set up email for yourself.
Although the common practice is to use the same host account for both email and website, you can run the two services on two different servers.
– Hosting your email on your website host will take up space. The email that you are sending, receiving, all the attachments, everything will be taking up disc space that your website could be using.
– Web hosting is not reliable. If your web hosting goes down, your email will go down with it.
– Using web hosting for your email locks you in. Maybe at some point you find a better deal for hosting your website somewhere else. Migrating a website is simple but migrating email can be from tricky to awful. Wouldn't it be better if your email wasn't tied to your website host and you could just change website hosts anytime you so pleased?
Let's discuss the reasons why you may consider hosting your emails on a different server and how to do the setup.
Why Host the Email and Website on Different Servers
By default, a hosting company provides email functionality with the website hosting. This makes it appears as if the two are inseparable while in the actual sense, they are completely separate services that can run independently of one another.
There are several reasons why you may consider running the two on different servers.
Improve Reliability and Availability
Even though most hosts try to keep websites up as much as they can, there's always the possibility of something happening and servers going down.
Some issues might be fixed within a couple of minutes, others in a few hours, and some could take days or even weeks.
Another reason to keep your email and web hosting separate is that if your server goes down, both your website and email will stop working.
Hosting the email service with a different provider improves reliability and avoids a complete shutdown when a server fails. If using one server, an outage or shutdown means that your customers and other users will not reach you on the website and email.
This may happen due to a malfunction or when the provider is maintaining the systems.
Reduce the Complexities Involved When Moving Hosts
Migrating a website and emails running on the same hosting server to another is more complex and challenging, especially for people who are not conversant. In particular, moving the email accounts is more challenging. However, if they are on a different server, moving the website alone to another host is much easier and does not risk your email accounts and data.
Avoid Blacklisting in a Shared Hosting
If one customer in on a shared hosting server is sending spam, you risk damaging your site's reputation. This will lead to blacklisting of the shared IP which will consequently block emails from your domain.
Although a VPS can help you to avoid this, it may be out of your budget and hosting your email on a different server is usually a better option.
Hosting Emails on a Different Server
To host your emails on a different server from that of the website, you need to change the Mail Exchange (MX) record in your domain's DNS records. The MX records are the ones that point to the server hosting your email and can be local if together with the website, or remote if on a different location.
To point your email away from your current account, you need to obtain the MX destination details from the provider who will host the emails. With these details you can either delete the existing MX record and add a new one or simply edit the existing. Unlike some other records, MX accepts the name of the mail server only and does not work with IP addresses.
The DNS records may be in another location, but you must have access to them. Some registrars may provide you with an interface to edit the DNS records while others allow you to set your own on a different server away.
Storage & Speed
All the emails and attachments you send and receive will take up disk space that could be used by your website instead.
Difficult Migrations
If you're using a shared web hosting, chances are you'll end up moving in the future.
Now, imagine your email is tied to the site you want to migrate; it makes the process that much more complicated. The domain transfer process also becomes more difficult with an attached email.
Whether it's DNS, MX records, zone files, or site files, migrating websites can be a pain.
Many web hosting companies offer free migration service. However, you want to know what they don't migrate?
Emails! Why?
When switching email hosts, you have to redirect all mail traffic to the new server.
During the update, there might be a period of time when some emails go to the old server, and some emails go to the new server.
So you'd have to find a way to check both the old and new servers to make sure you don't miss any emails.
You also have to make sure that there are mailboxes setup on the new server, which match the mailboxes on the old server. Plus, there's always the risk of losing emails and contacts during a transfer.
What are the Best Options for Email
If you're now convinced that email should be hosted away from your website's host, you may be wondering where this should be done?
Well, there are several email hosting providers, but here are a few of my favorite ones:
– OX App Suite: OX App Suite is powerful Email and Productivity Apps built for any-size business (and budget). Like the two other well-known software-as-a-service solutions: Microsoft 365 from Microsoft and Google Workspace from Google, the OX App Suite consists of various programs that simplify everyday office life: Word processing, Outlook alternatives, and cloud storage as part of a package. However, the OX App Suite has an advantage over the others thanks to its dashboard. View professional email plans and pricing.
– Google Workspace (formerly G Suite): Similar to G Suite, all Google Workspace plans provide a custom email for your business and include collaboration tools like Gmail, Calendar, Meet, Chat, Drive, Docs, Sheets, Slides, Forms, Sites and more. For additional details, visit plans and pricing page.
– Microsoft 365: Microsoft 365 is provided by Microsoft and uses cloud-based technology to offer access and updates to Office applications like Word, Excel, PowerPoint and Outlook.